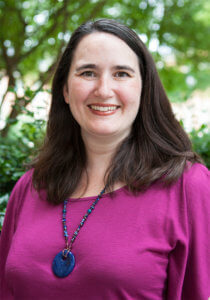 Assistant Professor
Howard College of Arts and Sciences
Angela Ferguson spent her early years in Kaiserslautern, Germany, where her father was working as a pastor in a European Baptist Church. She grew up speaking German with the children in her area and at school, but English at home with her parents. When the family moved to the United States, she completed high school in Mandeville, Louisiana and later completed her undergraduate degree in German and French at the University of Southern Mississippi. Her graduate work was done at the University of Texas at Austin, where she received an M.A. and Ph.D. in Germanic Studies. While studying in Austin, she discovered her passion for education and teaching German language and literature. 
In 2004, Angela began her work at Samford University as an instructor in the German program. She has worked in administration as the Director of International Initiatives and is currently an Assistant Professor of German, teaching and coordinating all upper and lower level German courses. She enjoys teaching German to give students a love for the country and its culture. Her primary research interests are in early modern German poetry, but she is also interested in women's studies, German film, faith in Germany (Protestant Reformation and Martin Luther, but also the history of the Confessing Church) and German migration to the United States. Her dissertation research focuses on German women's poetry in the 17th century. She is a recipient of a Fulbright travel grant and University of Texas Fellowship to study in Germany and has spent two years researching there, at the Freie Universität Berlin (2000-2001) and the Ernst-Moritz-Arndt-Universität Greifswald (2003-2004).
Apart from teaching German, she loves film, British comedies, and working in her garden. In addition to her work at Samford, she is involved with the Alabama Germany Partnership and supports several local institutions as a member, including the Birmingham Museum of Art and the Birmingham Zoo. 
Degrees and Certifications
B.A., University of Southern Mississippi
M.A., University of Texas-Austin
Ph.D., University of Texas-Austin
Fulbright Scholar Travel Grant to Germany
 University of Texas Continuing Education Fellowship
"Sibylla Schwarz' Faunus: Constructing Female Identity in the Space Between Desire and Duty" at the Sixteenth Century Society and Conference, Annual Meeting, Atlanta, GA, October 2006.
 "Using Technology in the German-language Classroom" Alabama Association of Foreign Language Teachers, AATG Workshop, Birmingham, AL, February 2005.
"Ich lieb und lieb auch nicht: Power and Passion in the Workof Sibylle Schwarz"
"Martin Luther's Liturgical Writings: How Close Adherence to Speech Melody
Alabama Association of Foreign Language Teachers
American Association of Teachers of German
 Modern Language Association
American Translator's Association