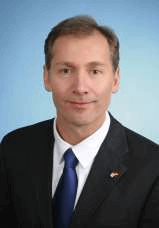 Wolfgang Kneer earned a Master of Engineering, a Master of Business Administration and Doctorate Degree for Leadership and Organizational Development as well as Certificates for Value Analysis and an Instructor license for German Professional Apprenticeships.
With 20 years of experience in the Automotive Industry and numerous Projects, Management activities and Chief Executive positions, Wolfgang led various international and intercultural teams. He led companies to peak performance and organized / coordinated complete restructuring of companies with their return to profitability. Some of his accomplishments include new start-ups, product launches, new facility launches and various efficiency improvements as well as the invention of planning tools like ICE, r OptiPRO or S.T.A.R.
Wolfgang Kneer had been Manager at Daimler AG, Plant Manager at Lear Corporation, President & CEO of MBtech North America and is now the acting Chairman and President of SWJ Technology, LLC, overseeing its US and Mexican operation as well as daughter companies North Georgia Engineering and SWJ Project One.
Dr. Kneer was also recognized by Dale Carnegie Training for result-driven leadership skills, has been guest speaker for International Management, Industrial Engineering and Leadership at the University of Alabama as well as the University of Texas A&M in Laredo, he continues to serve as ExOfficio Board Member of the Industrial Development Authority of Tuscaloosa County and has served for more than 6 years on the Board of Alabama Germany Partnership. Additionally, he was appointed to the Board of the German American Chamber of Commerce (South). Lately he was awarded with the Entrepreneur of the Year award (2017) by the Chamber of Commerce of West Alabama.