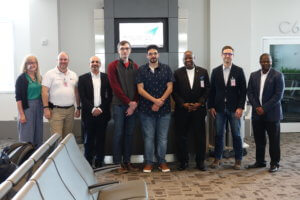 Early May, Ahmad Antar and Gavin Matthews, currently enrolled at UAB studying Electrical Engineering arrived in Bremen, Germany. They are apprentices of abatAdah Group in Birmingham and will begin their six week summer work-study program with German company abatAG.
They enjoyed at great send of at Birmingham Airport by (from left in picture):
Tine Hoffmeister, Executive Director, AlabamaGermany Partnership
Jochen Altenberger, Managing Director, abatUS LLC
Dr. Leon Jololian, Associate Chair, UAB Department of Electrical and Computer Engineering
Gavin Matthews, UAB/abat Intern/Apprentice
Ahmad Antar,  UAB/abat Intern/Apprentice
Councilor John R. Hilliard, District 9, Birmingham City Council
Kirk Atkinson, President & CEO, abatAdah Group, Inc.
Sylvester Lavender, President & CEO, Birmingham Airport Authority
A little fun fact, Mr. Lavender, President & CEO of Birmingham Airport Authority was born in Germany.